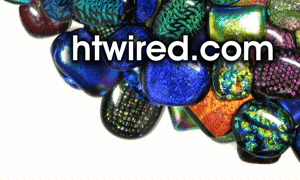 > > Jewelry-making classes taught by Dianna at Lotus Beads in Mall of America can be scheduled here: 952-854-9951
Product Catalog
- First time shoppers should review this "
important facts
" link.
- Orders are accepted from USA and Canada. Shipping is via US Postal Service.
Closeup views: Most pictures can be clicked to enlarge. And then, use your browser's "back" button to return to the previous page.

Shipping is via US Postal Service. Delivery signature is sometimes required.
Who are we?

Harvest Treasures of Apple Valley is a small business operating in Minnesota since 2001.
Our Boyds Bears & Friends collectables & our Longaberger baskets were purchased new and have been stored in original packaging. Any exceptions are clearly marked.
We do our own dichroic glass & PMC fusing. After several years of refining techniques and providing classes in jewelry making, our hand-crafted jewelry production quality is highly rated. Take a look and judge for yourself.
What about this web site?

This is our store. We offer a few treasures.
Most our inventory is one-of-a-kind; this means that you will receive the item pictured.
What do we like?
We like Swarovski cystals. They are the ideal of affordable classic elegance and quality.
We like dichroic glass. The variety is endless, and the surprises are always pleasant.
---



{} Trademarks used belong to respective owners. All site content is
{} copyrighted 2009 to present by Harvest Treasures Productions